Passion drives success. Actually, passion drives everything to you! We learnt this when we, Atma Studios, had a conversation with Ajith, an Artpreneur living his passion.
When we had a chance to go through his portfolio, we were amazed by the quality & quantity of his works! From logos to Kawaii illustrations, from Polish Folk Art to Contemporary Flat illustrations, he has created a bounty of designs based on different art styles worldwide. 
Ajith has aced the art of cracking the core of any art form in the world & create his unique illustrations with ease. 
His journey as an Artpreneur gives you an insight into how you can build a creative career if you are passionate about Art & Design. 
1. How did you get to know about the Artpreneur Program?
I was always passionate about Art & Design since Childhood & was following Atma Studios for a very long time. Intrigued with their artistic branding works, I started following other Brands founded by SCD Balaji. That's how I came to know the Artpreneur program.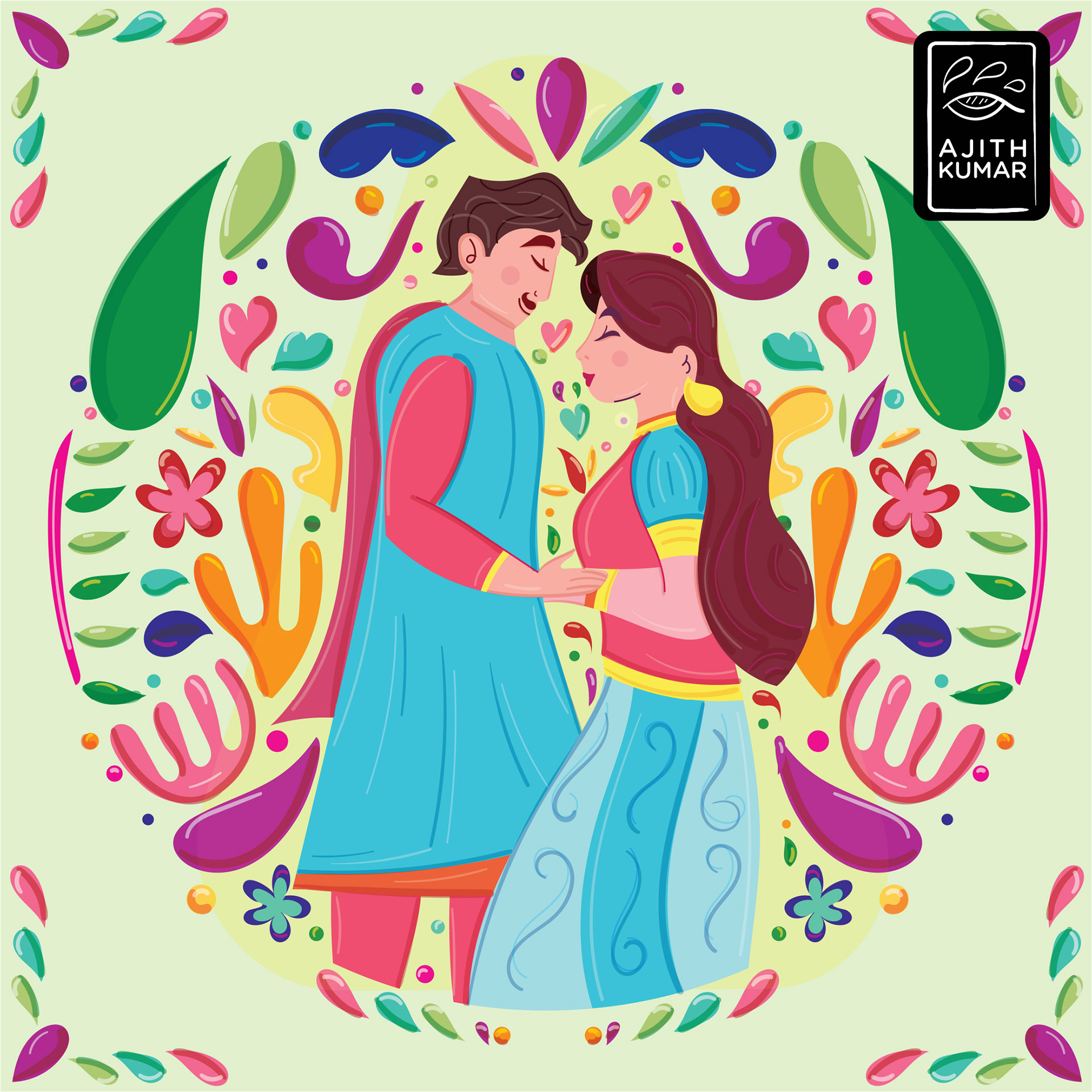 2. What were you working as before joining Artpreneur? What made you take up this 1-year Program?
After completing my Under Graduation in Commerce, I prepared for the intermediate level exams of CA and ACS. Although I was pretty good in my ACS exams, I found myself stressed the whole time. Something inside me said that I don't belong there.
From deep within, I know that Design was my passion & I wanted to pursue it as my career. When I decided to take the plunge, the next question was to find a design program that gives me the right path.
I realized that I have to invest 4 to 5 years & lakhs of money if I join a Design college. Even If I make such a huge investment of time & money, I understood ROI would be less.  
On the other hand, taking a crash course will not give me great exposure & knowledge to build my Design Industry career.
That's when I researched the Artpreneur program. It offered a 1-year program that has a vast curriculum for such a price. Also, the founder is the Mentor & he knows in and out of the Design industry.
When I saw the portfolio of their alumni, I was super excited. I had a chance to talk with the Mentor before joining the Program. I was so impressed with the professional approach, their expertise, and the confidence he gave me. More than that, I felt the Program and all the team members are super responsible for their students' journey.
I discovered that I could learn about Design, branding, art, personal branding and entrepreneurship in one Program & one year. Added to that, I can build a strong portfolio as a part of the Program itself. That felt huge to me & I just jumped into the Program.
3. When you opted out of ACS for Artpreneur Program, how did your parents react? And, how do they react now?
Like most Indian parents, my parents wanted me to settle in a well-established career. They thought that it would make my life much easier. But I knew ACS was not my cup of tea & I wanted to pursue Design. I joined Artpreneur Program.
During the initial days, they were super sceptical about my future & the security it provides. For them, art & Design could be a hobby but not a "Real Career.
I trusted the process & I was in a flow. During the initial months of the course, I smelled a slight change in them. When they saw my discipline towards the course, the way I was dedicated to it, the time I invested, they understood my passion for Design.
I became highly professional and passionate. That changed their perspective.
And, when I started making some real money, they had no choice but to trust what's happening in front of their eyes.
4. Apart from technical aspects, what have you learnt from the Artpreneur program?
I'll tell you what all I learnt & how different it was!
Artpreneur program has a different approach, even in technical aspects. Although they don't mention in the curriculum, they teach Design Thinking through the process.
I would say it is one of the most important take away for my life. Imagine, I know a creative process through which I can find solutions to any problem in my life – both professionally & personally.
After the Artpreneur program, I have become an auto-upgrade machine. I learnt how to crack the core of anything & master it.
Design is my strength. Artpreneur gave me the confidence that I can create any type of art in the world. I'm not talking about replicating art. It's about cracking the core, if you know what I mean!!!
Apart from a technical aspect, the Program gave me an Optimistic mindset. It taught me how to develop an Entrepreneurial mindset, take measured risk, interact with clients, and manage time for productivity, discipline, and responsibility.
I learnt to teach with a sense of responsibility only from Artpreneur Program. 
5. We know Design is your passion. Are you making money out of your passion? What do you do now?
Yes, I make money through various doors… A program like Artpreneur shows us multiple ways to earn a living through our passion. I'm happy that I'm living my passion & making a good sum too.
I am currently managing the brand Quirky invitations & creating story-telling illustrated invitations based on various art forms from around the world. I'm also associated with Atma studios in various aspects.

​​​​​​​
I've conducted several art workshops through the Imagineers program. I've been featured in newspapers for my programs as well.
6. Describe your life before & after Artpreneur Program.
That's completely black & white.
Before Artpreneur Program, I used to feel insecure & had a different mindset. I had to put a lot and a lot of effort into getting something done. I lacked the sense of time & was stressed out. I lived a life that I didn't enjoy much.
Artpreneur Program was a game-changer.
I developed an optimistic mindset about life & career. My Mentor gave me a refined process for handling anything. I became process-oriented. Everything I do now is an effortless effort.
I simply live in a happy space of doing something that I love & making a good living out of it. It feels amazing!
The Program teaches us to build a platform where we can learn, experiment &earn.I can't complete it as I'm living as an Artpreneur & I have a long way to go. 
7. How would you describe the return of investment from the Program?
If you see, ROI is usually calculated based on Investments we make. Course fee & time are the only investments in the Artpreneur program. 
You can easily earn back it within 3 months after the Program if you follow the process they give you in terms of money.
I earned 70k INR in my first art program soon after completing my course. 
In terms of time, I would say ROI can't be measured. Because the Program gives you a lot in one year. You'll be using them all over your career, and ROI can't be calculated.

​​​​​​​
They teach you multiple aspects technically and help you find your Vision, pave your path in what you love and much more.
8. What does Artpreneur Program mean to you?
Joining Artpreneur Program is my Second Birth.
I may get emotional here! But, I can't describe what the Program means to me in words. 
I owe everything that I have to Artpreneur Program. It gave me a different perspective about living a life full of passion. I'm happy, I earn, and more than all, I'm in peace. I do things that I love & my work has become my vacation.
All the student go through a tailor-made journey in the Program. The Program sculpted my Journey.
My life before & after can't be compared in any aspect. As I said earlier, it is completely Black & white.
9. How has the relationship between the Mentor and the Artpreneur community been after the Program?
The relationship can't be divided like before & after.
The professional commitment, responsibility and love they show towards the art community are always the same. Once you are into Artpreneur & follow their process, you are forever one with the community.
Educators, Co-educators, program coordinators, and the whole team takes care of the students in the same way. They make us independent and help us sculpt our journey.
10. Would you recommend the Artpreneur program to others? Also, as an alumnus, a word to people looking to join the Artpreneur program...
I recommend this Program to all those who want to be Creative, amateurs passionate about art and aspiring entrepreneurs.
Artpreneur Program transforms life & to my knowledge, there is no other program like this.
My starters guide to the Artpreneurs-to-be is…
The Program has a refined process to sculpt your Journey. The mentors will guide you through the process to help you reach your Vision with assignments, portfolio plans, etc.  
Make sure you fulfil your commitment without any compromise and throw yourself into the process. You will ultimately discover your creative path.
To Know more about the Program, Please click and explore the below links

Enquire your doubts by filling out the below form,
Our chief program coordinator will contact you through WhatsApp, email or phone call to

schedule a zoom meeting

in your available time mentioned below.
The

Program Coordinator and Mentor 

will brief you on the

Program Orientation, Program Structure, Program Time, Fee Structure, Technical Requirements, Portfolio Mentoring, Career Guidance

, and other topics via a scheduled Zoom audio + screen sharing session.
Thank you for enquiring with us and providing your preferred date and time. Our program coordinator will promptly contact you to schedule a meeting based on your availability within the next 24 hours.
FOR MORE DETAILS ABOUT THE PROGRAM 
CONTACT:
Mr. Vignesh
(Program Co-ordinator)
+ 91 93847 44497
Whatsapp / Call / SMS