Many people struggle in corporate jobs since it is not their cup of tea. The struggle is real and so the circumstances.
A leap towards their passion combined with hard work and patience is all that is needed to live a life of your dreams.
Responding to that inner calling is the best gift that you can give to yourself! That's exactly how Anish held to his purpose and passion despite of the multiple challenges he faced.
Atma Studios met with
Mr. Anish
, an Artpreneur and the
Founder of Tatlaya Studios
, to understand his journey from his initial struggles in quitting a corporate job and opting for a creative path to become an Artpreneur.
1. How did you get to know about the Artpreneur Program?
I always tried to learn graphic design, illustration, and motion graphics through online tutorials. During my college days, I used to design posters for events, after which, I got a lot of design assignments. I enjoyed doing them, and at one point, I started believing myself as a Pro Designer.
It was when I volunteered in an organization, that I realized "operating a design software did not make me a designer".
A friend from the same organization spoke highly about one of India's leading Brand Consultants, Mr. SCD Balaji. Through further conversations, I got to know about Artpreneur program conducted by Mr. SCD Balaji and I decided to join the program.
But for various reasons however, I ended up in a corporate job. A good friend of mine used shared the glimpses of what was going on in Artpreneur Program every now and then. I got inquisitive and decided to quit my job to join the program.
Here I am as an Artpreneur!
2. What were you working as, before joining Artpreneur?
I was working as a Support Engineer in an IT company for nearly 2 years.
​​​​​​​
3. What made you take up this program?
I was looking for an alternate career option. The idea of the course that teaches Art, Design and Branding in just one year made me curious. I was keen to learn creativity and master it in a short period but didn't know how to do it. Artpreneur program paved the way for it.
Also, the program gives a commitment to the career of participants. When I got an opportunity to talk to our Educator Mr. SCD Balaji, I discussed about my career and struggles.
"Give your time and interest to me. Your career is my responsibility".
That ONE COMMITMENT from the EDUCATOR himself made me instantly join the program.
4. What prompted you to leave your job? How did your parents react?
Self-Confidence + ROI + Mentorship + Passion
The Artpreneur program requires a time investment to learn things superfast.  First, I was confident in myself as a learner. Second, I did a quick math and realized that in 3 years, I would have earned 10 times more than what I would have made from an IT Job.
Also, I was aware that Mr. SCD Balaji would be mentoring me throughout the program. More than everything, I knew in my heart that I was following my passion.
My parents were scared and upset about my decision to quit the job. My intention was to pursue what I loved and at the same time, satisfy them. So I accepted and held the momentary pain because I know it was worth it. All I had to do was to work and prove myself.
5. What do you do now? Are you making money after completing Artpreneur program?
I transform people and business through Art, Design and creativity. 
I have started my Branding studio "Tatlaya". I work on Branding and Design projects from multiple streams. I'm also a part of the Co-educator team in Artpreneur Program and Imagineers.
My quick math during decision-making proved right. The exciting part is that I started earning even before I completed my course.
6. Apart from technical aspects what you have you learnt from the Artpreneur program?
Artpreneur is a Lifestyle program. I learnt how to lead a creative lifestyle happily and blissfully. Artpreneur taught me everything from planning and scheduling to managing people, various projects and organizing events.
These are the fundamental business skills you need that no university teaches you.
I feel the education model in Artpreneur program should be implemented across the education system. In fact, this is one of my aspirations, I should say.
7. How has your transition from a corporate person to an Artpreneur been? How did your parents respond?
The routine I was following in my corporate days created resistances during the initial days of the program. Artpreneur program needs 2+6 hours of commitment every day. That very aspect helped me build discipline, which is now helping me in business and teaching.
Initially, my parents were trying to persuade me to join a Corporate job. But, when I became more sincere, disciplined, there was a positive change. When I started getting wonderful results from my efforts, they began to support me. After I started earning, their entire perspective about the program and my decision has completely changed.
Now, my father even wants to support me in business after his day job.
8. Describe your life before and after Artpreneur program.
Life before Artpreneur was definitely hectic but I had no clue where the rat race would lead me to. But, after joining Artpreneur, I became more systematic in thinking and doing everything and realized there is a proper process. I moved from an abstract state of mind to clarity about my vision and my plans for the next 5 years.
​​​​​​​
​​​​​​
9. What is your relationship with the Educator Mr. SCD Balaji?
Mr. SCD Balaji is more than an Educator. He has mentored me to overcome challenges on my own, and also took complete responsibility for my career. I consider it a tremendous blessing to get a mentor like him!
10. Would you recommend Artpreneur program to others? What would you say to people looking to join Artpreneur program?
200%. I would recommend Artpreneur Program to anyone because there is no other course in the world which teaches so many things and help you make a profession out of it.
My word for aspiring Artpreneurs would be...
If you really want to make a transition in your career and life, then this is the right place! Just jump in.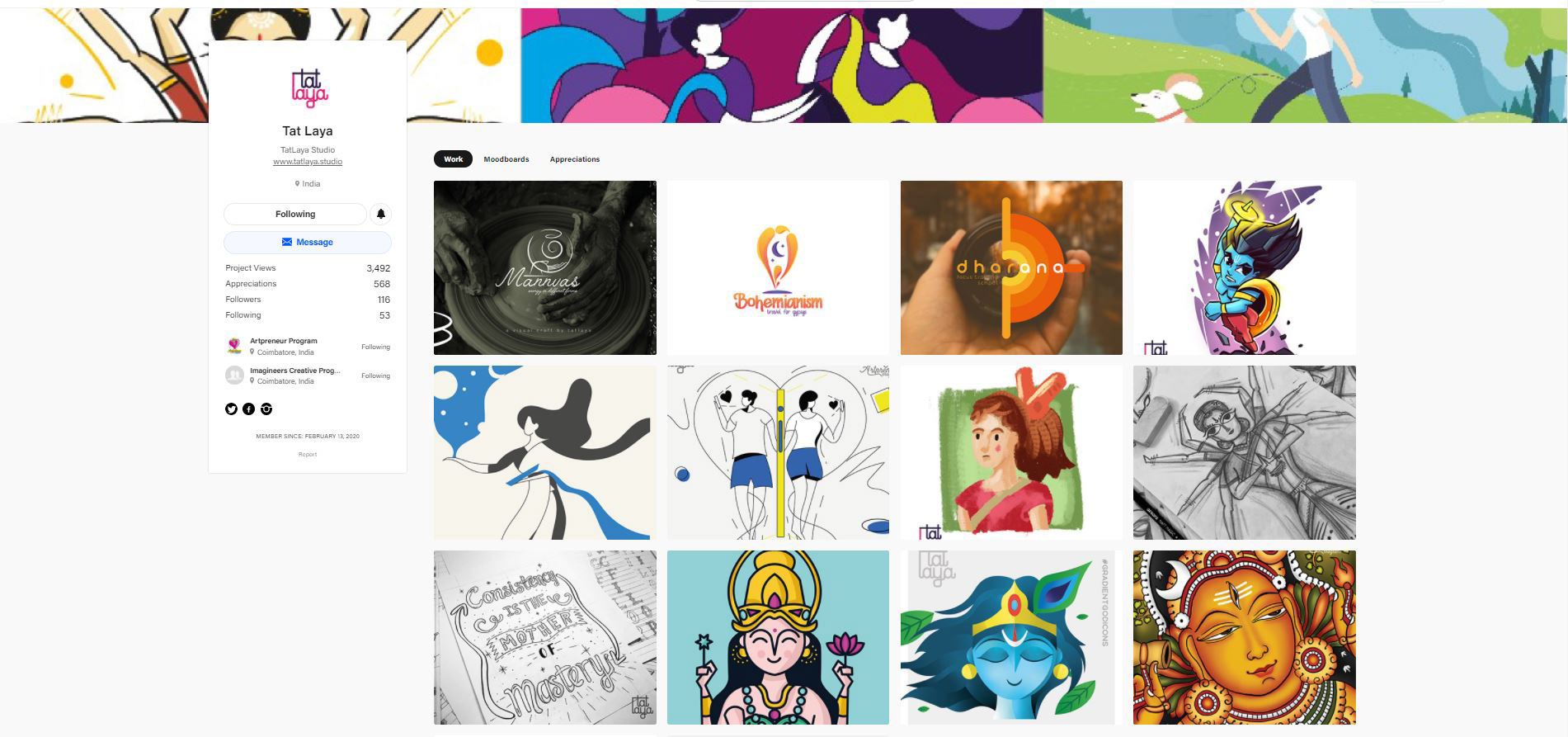 To Know more about the Program, Please click and explore the below links
Enquire your doubts by filling out the below form,
Our chief program coordinator will contact you through WhatsApp, email or phone call to

schedule a zoom meeting

in your available time mentioned below.
The

Program Coordinator and Mentor 

will brief you on the

Program Orientation, Program Structure, Program Time, Fee Structure, Technical Requirements, Portfolio Mentoring, Career Guidance

, and other topics via a scheduled Zoom audio + screen sharing session.
Thank you for enquiring with us and providing your preferred date and time. Our program coordinator will promptly contact you to schedule a meeting based on your availability within the next 24 hours.
FOR MORE DETAILS ABOUT THE PROGRAM 
CONTACT:
Mr. Vignesh
(Program Co-ordinator)
+ 91 93847 44497
Whatsapp / Call / SMS