2.
When you started your drawing / art career ?
From my childhood I always had a fascination in art and I used to pick some reference and see and draw them which gave me so much happiness but out of the blue I always get a feeling that I'm not creative and am not able to draw anything from my imagination that I could call something of my own. This long term desperation soon led me to a dream come to true moment through the journey called the 'Artpreneur Program' which is the actual beginning of my art career. 
3. So far how many different styles you have tried ?
So far I have tried 18+ Indian and International Art styles in different traditional mediums digitally over the course of one year being into the program. I am also in the journey of exploring and creating original illustrations in 40+ new art styles that I have no prior experience with. The secret behind me being able to create illustrations in any style in the world if i could say so myself, could be experienced in the program through a very prized-possession of all the artpreneurs which is taught and inculcated within us called the 're-engineering process' which am forever grateful for!
4. What are you doing currently?
I'm delighted to say that I'm currently an Illustrator in Quirky invitations and a Co- Educator in Artpreneur program. I also have my own design studio which I'm working upon.
5. What is your experience on Artpreneur Program and your Portfolio ?
One year of my journey in this program has been unbelievable and extremely magical. It was like a creative cocoon wherein which any beings who are amateurs but curious to learn art and design are welcomed, guided and taken care of, provided with the requisite skills, wisdom and capabilities to help one achieve their dreams of becoming a creative independent and evolves one into a butterfly.
Talking about my portfolio period, It was a phase where i was able to observe and understand more about myself without the help of the educators. I was also able to work very comfortably since the foundation of all the teachings was made very clear during the program itself.
6. Share your experience with Educator and Mentor
My Educator,

Mr. Anish

, has been one of the most compassionate and caring teachers that I have ever come across in my life. He has always been there guiding me every moment to the path where I am in now!
The Mentor,

Mr. SCD Balaji

is an unimaginable being by nature, Not exaggerating, words truly can't describe what kind of a being he is! He is the core essence and the driving force of the entire Artpreneur commune which includes every educator and every single student! He has always been my Guru and will ever be! I'm forever and ever grateful to him for he being the utmost and only reason for what I am now and what I could ever be!
7. What is your favourite Art Style and reason ?
That's a tough one to answer. Hmm... To choose one i'll go with Chitrasutra. Chitrasutra is an Enchanting and Mystical art form that I was enthralled to soon after I was introduced to it. Gazing at this art form itself was so mesmerizing that I could not resist myself from attempting this style. Just like the experience I had with gazing of the Chitrasutra works, Drawing in this style also led me to a blissful state of mind.
8. Would you recommend the Artpreneur program to others? What would you say to people looking to join the Artpreneur program?
Absolutely! I recommend Artpreneur Program to anyone who wants to discover, learn and transform themselves into a creative professional through art and design.
If you are looking for a tailor-made and non- judgemental space where you can learn, experiment, and master art and design at your own pace then this program is especially for you!
If you have decided to jump into the program, then don't give a second thought to it, because you are in the right hands. All you need to have is curiosity, commitment, and a complete trust towards the program.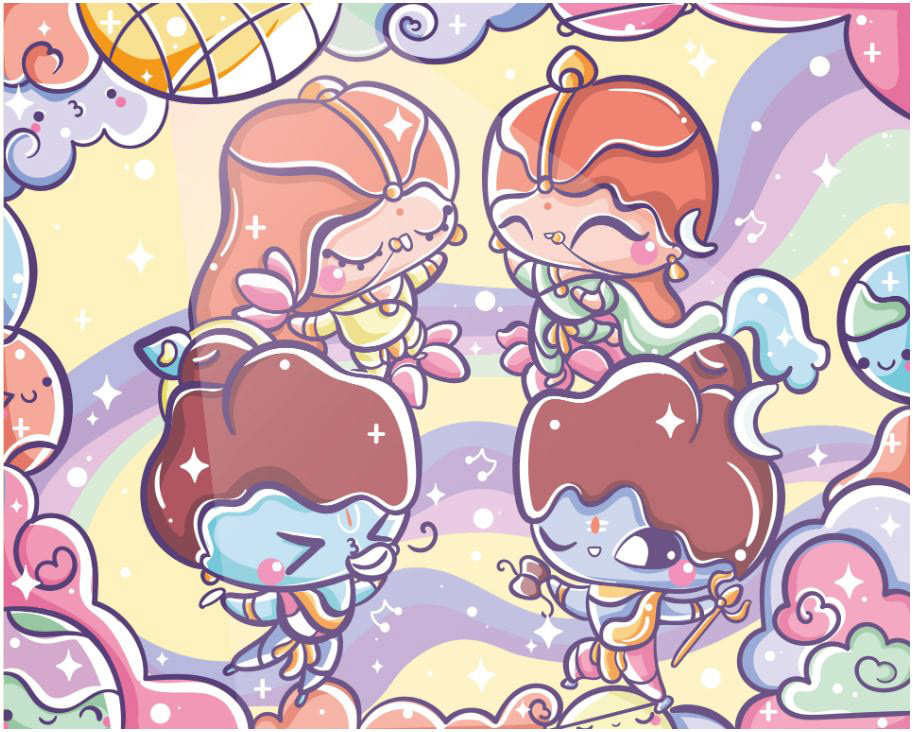 9. The program commits any amateur can master art, what is your opinion and experience on it ? Are you an amateur before the program ?
I would 100% agree that any amateur can master art as I was an amateur myself before the program. I was completely uncertain and clueless as to how I could learn and create artworks of my own as I knew nothing in art apart from blindly seeing and drawing which was also not something that I was great at. Thanks to the program, for taking care of me and helping me evolve as an amateur. Now that I'm able to create my original artworks and see myself getting to a mastery level in art.
10. Do you regret not joining a traditional art and design school? How different is Artpreneur Program from other design courses?
No, I don't have any regrets on not joining a design school. The reason being is, I don't think the utmost care and responsibility given to each and every student here, is given else where. The fact that the program commits and promises on each student's vision irrespective of their skillset and knowledge, and helping them achieve it is also something which is very unique that only this program could offer.
11. How different is Artpreneur Program compared to Online Pre-recorded Tutorials?
Since Artpreneur Program is an online live and interactive course, there is a space to put out all your doubts to your instructor and educator everyday and be guided by them in a live session wherein the educator assigned is going to take care of each student in a tailor-made way for the whole year.
Whereas, in pre-recorded tutorials the tailor-made aspect, the individual care or a space to enquire and clarify the doubts right ahead is completely absent.
To Know more about the Program, Please click and explore the below links
Enquire your doubts by filling out the below form,
Our chief program coordinator will contact you through WhatsApp, email or phone call to

schedule a zoom meeting

in your available time mentioned below.
The

Program Coordinator and Mentor 

will brief you on the

Program Orientation, Program Structure, Program Time, Fee Structure, Technical Requirements, Portfolio Mentoring, Career Guidance

, and other topics via a scheduled Zoom audio + screen sharing session.
Thank you for enquiring with us and providing your preferred date and time. Our program coordinator will promptly contact you to schedule a meeting based on your availability within the next 24 hours.
FOR MORE DETAILS ABOUT THE PROGRAM 
CONTACT:
Mr. Vignesh
(Program Co-ordinator)
+ 91 93847 44497
Whatsapp / Call / SMS